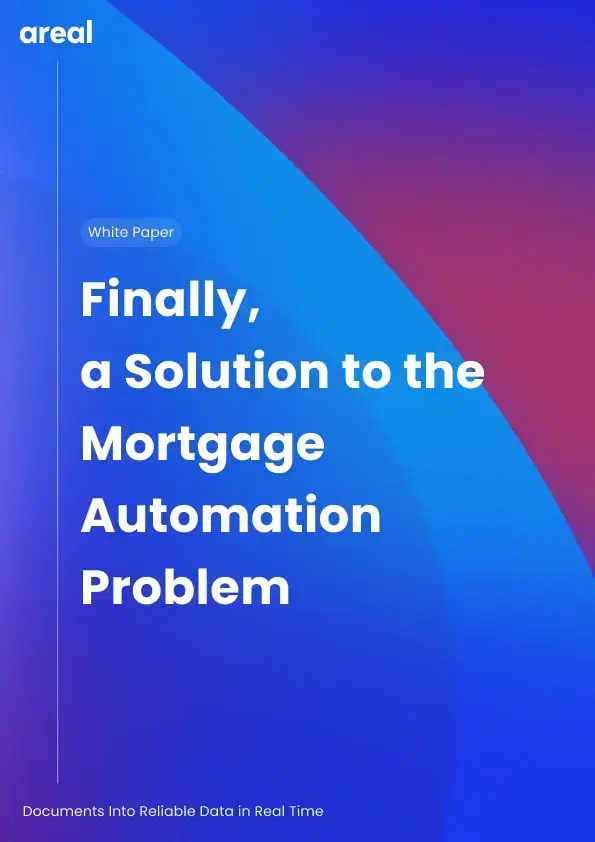 WHITE PAPER
Finally, a Solution to the Mortgage Automation Problem
In this paper, we'll discuss new AI-powered technologies that are allowing lenders to complete their work without having to maintain today's high staffing levels. Even better, these new tools work with the legacy technologies that lenders have already purchased, protecting them from loss on sunk technology costs.
Challenges and Impact of Mortgage Automation
Complexity and Opportunities for Automation
Key Features of Ideal Mortgage Automation Solutions
What's Inside?
Turnkey Solution
Precisely detect 1,300+ document types with Areal's out-of-the-box solution
SAVE HOURS
Take back thousands of lost hours spent reviewing, sorting, and re-routing documents
APPLY YOUR NAMING
Configure naming settings to apply your preferred naming convention
COMMON INTEGRATIONS
Integrate with major Mortgage, Escrow and Settlement platforms
GO BEYOND BARCODING
Avoid barcoding limitations and detect all types of documents regardless of source
EASY DOCUMENT INTAKE
Easily connect your email or cloud drive to get started
Download
White Paper
Download Now
Please fill the form to receive it to your e-mail address.